The Pet Industry is Surviving and Even Thriving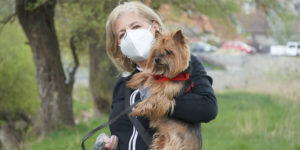 Are you getting tired of looking at the news every morning and seeing nothing but doom, gloom, and political turmoil?  I guess the old adage that "bad news sells" is in full swing right now.  Well, that does not apply to this column, and I am happy to share some positive news about our beloved pet industry.
I've been chatting with some of my colleagues in the manufacturing business over the last few weeks and I'm happy to report that the vast majority of what I heard was positive and hopeful.  I wanted to encompass a broad spectrum of industry segments, so I engaged with the founders of InClover (Rebecca Rose), EarthBath (Paul Armstrong), PetNShape (Ahdee Abramson) and Petrageous (Charlie George) to get their take on how having our world turned upside-down has affected their businesses.
How has the coronavirus affected your sales and operations?
 InClover, PetNShape, and EarthBath all sell recurring consumable products, so it wasn't surprising to hear that each of them had outstanding sales in March (mostly due to pantry-filling), and a slightly slower April.  None of them are expecting a significant downturn, nor have they had furloughs or layoffs.  Armstrong shared that while his retailers' foot traffic initially declined, they are telling him that foot traffic is back up, theorizing that it is because people are looking for a reason to get out of the house, and feeling more comfortable doing so.   Abramson of PetNShape shared that while business is much stronger than last year, driven primarily by increased online revenue, he has had a bit of a challenge getting enough body parts since meat processing has slowed.
Petrageous sells discretionary hard goods, a category that has been hit a little harder by the stay-at-home orders experienced by most of the country.   Sales are down, primarily because many of their products tend to be impulse items that people pick up while walking around the store.  With curbside delivery, and the lack of venturing out, that opportunity has slowed, but expected to pick back up again soon as stay-at-home orders are lifting.  "Petrageous is financially solid, has strong customer relationships, and we are back to receiving products made overseas. I am highly optimistic about the future of our business" shares George.
What are specific actions you have taken as a result of the pandemic?
 A common theme amongst these companies was more frequent communications with their customers and an increased emphasis on social media.  They reiterated how it is more important than ever to keep their fingers on the pulse of the market and in close communication with their employees.  "Slack and Zoom have been invaluable, now that everyone is working from home" explains Armstrong.
George shared that Petrageous' social media efforts have emphasized funny, light and whimsical, acknowledging that people are relying on their pets for unconditional love more than ever. "We are keeping a close eye on our ingredient suppliers. Having long-term relationships with them has helped InClover tremendously.  We are also amping up trainings and consumer marketing" says Rose.
Overall, it seems like all of these companies are putting their foot on the gas instead of the brakes.
How do you think the coronavirus epidemic will change the pet industry in general? 
 There is no question that this industry is full of positive, optimistic and passionate animal lovers.  Across the board, the response to this question was that we will come out of this stronger than ever.
On a more granular level, Abramson believes there will be an exponential shift to online sales, and that unless you double down your level of service, it will be hard to succeed in the long term.
"The pendulum will eventually swing back to pet retail, as people will appreciate their pet stores more than ever, but retailers will need to pivot and find more ways to get products in the hands of customers, through home delivery services like Postmates and Instacart" explains Armstrong.
Rose believes this will change our industry in positive ways because manufacturers will listen even more to the consumer and meet them where they are.  "Brick and mortar will never go away, but retailers will need to "find their lane" by carefully curating their offerings and building community" she shares.
George passionately believes that pets will be further exalted in their homes for the endless love and comfort they provided to their pet parents during this difficult time.
And now, a word about the state of pet industry M&A. 
 I am frequently asked how the pandemic has affected my business as a pet industry M&A advisor.   To no one's surprise, it is quiet right now as most companies are hunkering down to navigate through this crisis.  I used the analogy the other day when chatting with a client that starting a sale process right now would be like going for a walk in a hurricane…not a wise idea unless you really, really have to get somewhere.  Not only is this not an ideal time to launch a sale process due to the current economic uncertainties, but buyers who use debt to make acquisitions will have a harder time getting access to such loans because banks have significantly tightened their lending belts.
However, things have not died down completely.  Just a few weeks ago we received 8 offers for a company that BirdsEye was already representing when the pandemic hit, and only one buyer said the offer was lower than it would otherwise have been due to coronavirus (the buyer was based in New York City, which didn't help).  I'm happy to see that we are under Letter of Intent and expect to close the deal in 60-90 days.
I've also received multiple calls from buyers who are "looking for a deal" in case I run across a business who has become distressed due to current market conditions.  Recently I spoke with a private equity firm who told me about a new pet deal they just received information about.  And, while listening to a recent Motley Fool podcast, one of their analysts highlighted the pet industry as one that is going to significantly benefit from the new normal of working from home.
"This too shall pass" as is printed on the new mask I just bought on Etsy.  We are fortunate to be part of an industry that hasn't been negatively affected by the pandemic, there is still plenty of money out there to acquire good quality companies, so I have no doubt that when we right the ship, the pendulum will swing back to our normal, robust M&A market.
Carol Frank of Boulder, CO, is the founder of four companies in the pet industry and a Managing Director with BirdsEye Advisory Group, where she advises pet companies in M&A transactions and Exit Planning.  She is a former CPA, has an MBA, is a Certified Mergers and Acquisitions Advisory (CM&AA) and holds Series 79 and 63 licenses.  She highly values and incentivizes referrals and can be reached at cfrank@birdseyeadvisory.com.