Erin is a Certified Exit Planning Advisor who leads all exit planning engagements for BirdsEye Advisory Group and assists on M&A projects.
Her primary areas of focus are exit planning, marketing material development, due diligence and client management.
Certified Exit Planning Specialist
Erin Fenstermaker,
CEPA, MBA, ABCDT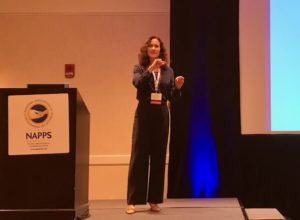 20yrs as an Operator, 10yrs as a Consultant in Pet Company Marketing & Operations
Carol Frank and Erin's close personal friendship is evident in BirdsEye engagements, and is one of the elements that makes their work together so successful and refreshing. 
Erin and Carol met in Dallas in 2001, and thus have been good friends for over 20 years.   They have worked together professionally at various intervals over the last 15 years, including when Erin was Carol's second-in-command at Carol's company, Avian Adventures, from 2004-2007.  Erin has worked with BirdsEye since 2013.
Erin is a Certified Exit Planning Advisor, which is a designation that gives her a unique framework to determine a business owner's personal, financial and business readiness for an exit.  As a CEPA, she is skilled at uncovering potential stumbling blocks that can derail an M&A sales process, and attempts to identify all such issues prior to a client company going to market. Erin leads all exit planning engagements for BirdsEye; she also partners with Carol on most of the company's M&A projects.  Erin's primary areas of expertise are exit planning, marketing material development for sale processes and due diligence lead.
Erin is especially skilled at marketing material development and due diligence due since she spent the first 20 years of her professional career as an operator within several small businesses–in sales, marketing and operations roles.  Erin is familiar with, and/or has used almost all of the business software programs that BirdsEye clients are utilizing, and thus knows what information and reporting they can provide.  Erin writes all of the content for BirdsEye clients' Confidential Information Memorandums, aka the "CIM" (the 60ish page marketing book for a sales process), designs the look and feel of each book, and chooses all of their graphical elements.  It is not unusual for prospective buyers to comment on the visual appeal and thoroughness of BirdsEye CIMs' content with statements like, "this is one of the best CIMs I have ever seen."
Her attention to detail, strategic thinking and impeccable follow through allowed her to ascend quickly in every company she worked with in her early career, becoming a trusted confidante to each business owner.  This experience as the preferred "right hand (wo)man" for business owners led her to starting her own pet industry focused consulting practice in 2013, where for almost ten years Erin has assisted pet companies with strategic, financial and marketing goals.
Erin holds a Bachelor's degree in Spanish and one in Sociology from Southern Methodist University; she also earned her MBA from Southern Methodist University, with concentrations in Marketing and Small Business.  A true pet professional, Erin earned a dog training certification from Animal Behavior College in 2008.
Erin lives with two cats, Pippi and Finn, and a bichon frise dog named Snowball.  One or all of them will likely make appearances during BirdsEye Zoom calls.  She is active in the local Dallas shelter and rescue community, regularly volunteering her time in addition to fostering dogs and cats in her home.   Erin loves to travel in search of up close and personal animal adventures.  She has worked on a wild animal refuge in Namibia, volunteered with sea otters in Brazil, and walked with gorillas in Uganda, amongst other exploits.  She is also an avid tennis fan and recently completed the Grand Slam of tennis by attending all four major tournaments, as a spectator: the Australian Open, French Open, US Open and Wimbledon.