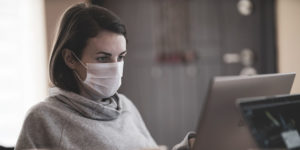 In this very strange time we are all in, I have made a point to look for silver linings from this pandemic–even when many people are without jobs, are immersed in the CARES Act details and may have more time on their hands than they typically do.
One silver lining I have seen this year is that business people everywhere are tackling big projects that may have been on the back burner when the economy was zipping along at its typical rapid pace.  Business owners suddenly have time to evaluate new software, start their company's blog, update their operations policies and procedures manual, and think more about their company's future—including when it might be time to sell.
As someone who is a meticulous planner in my own business activities, this makes me very happy.  From my work as a Certified Exit Planner, I know that half of all business owners go through a sale process because of something totally unplanned, like financial distress, partner disagreements or personal health issues, among others.  It is my hope that every business owner be aware of this statistic, and then do whatever they need to in order to better prepare themselves, just in case they have to sell their business due to unforeseen circumstances.
On the flip side, my colleague Carol Frank, managing director of BirdsEye Advisory Group, and I are regularly approached by companies that are considering selling their businesses, but unfortunately not all of them are anywhere near prepared for a rigorous sales process and buyer due diligence.  This is disappointing for them to hear, and disappointing to BirdsEye due to the lost opportunity.  But no one wants to go through a sale process just to have it fall apart in due diligence because of poor record keeping, incomplete financials, and exposure to undisclosed risks.  In addition, no seller wants to take a big "haircut" on the final selling price because a buyer uncovers a few hornets' nests during due diligence.
That is why Exit Planning is an ideal exercise to go through well in advance of selling your business.  Get a clear understanding now of what buyers want to see.  Understand what metrics ideal acquisition targets are judged by, and if your company can't deliver such things, fix those areas now and have them become part of your regular business activities moving forward.  Then, if you have to sell tomorrow due to something unexpected or you choose to sell in 5 years, you know you will be ready when the time comes.
An exit planning engagement just may be the best investment you make in your business during pandemic season! Learn more about our Exit Program Programs HERE.
Erin Fenstermaker, an 18-year veteran of the pet industry, is a Certified Exit Planning Advisor (CEPA) and M&A professional with BirdsEye Advisory Group.  She holds two Bachelor's degrees and an MBA from Southern Methodist University, and also earned a dog training certification from Animal Behavior College.  You may reach her at erin@birdseyeadvisory.com.