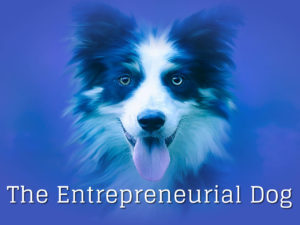 This is the seventh article of a seven-part series where each installment has taken a look at an innate ability of dogs and what business people can learn from our four-legged companions. This article talks about the genuine empathy of dogs.
The Importance of Empathy
By Randy Culver
My dog Oliver and I visited my wife, Susie, when she was briefly hospitalized a couple of years ago. "The hospital is dog-friendly," a nurse told me when I asked about a family dog in the patient's room across the hall. I know how much Oliver adores Susie and he's overly cool and collected in public, so the next morning Oliver and I strolled confidently in the front door and up to her room. I figured visiting dogs likely had to be approved, and knowing that would take a few days, we (I) decided to give the appearance that we'd already done just that. It worked.
Susie was tethered to an IV cart when the three of us walked the halls later that morning and were approached by a woman. She asked if I could bring the dog in to see her daughter. I explained that Oliver was not a certified animal assistance dog but that I'd be happy to have him come visit.
I walked Susie back and then returned with Oliver. Oliver is highly social with other dogs but much less so with people other than Susie, myself, and close family. If strangers do not have treats, he moves on. That day was different.
We approached the hospital bed, a young girl slowly rolled toward us, her parents telling their bald daughter she had a visitor. Oliver sniffed at her side and then stood by the bed while she stroked his fur. Normally, Oliver would move on, but he stayed completely still, his focus fixed on her. He clearly wanted to comfort her, to connect with her. After our visit, the young lady's Mom confided in the hallway that her daughter was being treated for brain cancer, loved animals, and recently suspended her training to be a veterinarian technician due to surgery. She thanked us both, asking that we return.
We came back later that day. How could we not?
As we knocked and came in the room that afternoon, the parents explained that their daughter had just received a strong dose of painkiller in her IV and was not conscious. Oblivious to the human conversation, Oliver went over, nuzzled at her hand, planted his chin firmly on her bed. The girl never opened her eyes or moved her body, but she began gently moving here finger tips back and forth to run them across the soft fur on top of his head. I looked down witnessing this subconscious bonding and struggled to fight back tears.
Oliver was demonstrating empathy in a most touching way. We often think of empathy as kindness or understanding in difficult times like these. Empathy is equally associated with times of joy and celebration. Simply defined, empathy is being cognizant how someone else is feeling and adapting our behavior in response.
Sincere empathy is at the core of successful entrepreneurship. Again, think of empathy not only in hard times, but more importantly, in great times. It's a shame that empathy sounds so much like sympathy making us overly associated the two. A quick search for empathy synonyms include affinity with, rapport with, understanding of, and sensibility to. Those words define human connection, the connection which is vital in business.
Entrepreneurs who empathize with employees gain a strong commitment from their team. Get to know your employees on a personal level, learn what they enjoy doing and who they call family. Identify with them. Recognize and celebrate their accomplishments, both in the workplace and at home. Talk about what went wrong at work or what's troubling at home.
Great business managers extend the concept of empathy to their customers. As it should, genuine empathy toward your customers gains their trust and confidence. When your customers know you care about their business, they want to work with yours. Only empathy that is sincere and genuine works. We have all received false or fake empathy and know it is highly destructive.
I've had the great pleasure of working with an incredibly empathetic business partner. Mark, along with my other business partner, Sean, and I, recently received formal recognition for our entrepreneurship, as Ernst and Young's Regional Entrepreneurs of the Year. Although the three of us each received individual awards, the recognition was really tied to what the company had accomplished in ten years. Empathy was absolutely instrumental to that success.
The next morning, I was home alone with Oliver and began reflecting on the previous night. My wonderful Mom passed away when we were working in my basement, forming this business a decade ago. She, too, was gifted with empathy. She always enjoyed telling me as a young boy on the farm how I could do and be anything I wanted—although I'm certain she was thinking astronaut going to the moon more than entrepreneur. During my career, she always enjoyed learning of my accomplishments, and this made me both want to achieve them and to share them with her.
I knew she would have been immensely proud of her son's recognition, but I couldn't share the previous night with her. A wave of emotion overtook me in the kitchen that morning. As I sobbed and convulsed thinking of my Mom, Oliver ran from another room and began feverishly nuzzling and using his front paws to free my hands from my face and began licking me. My sadness turned to gratitude. Oliver the empathetic dog was once again teaching the value of empathy.
I hope many of you have enjoyed reading these articles as much as I've enjoyed writing them. Woof woofs to my wife Susie for her support of my writing, Elissa Hannam for reading and editing my writing, and Oliver and Heidi for inspiring my writing.
Please share lessons from your entrepreneurial dogs with me at randy@amergint.com.
Randy Culver is a successful entrepreneur and founder of two satellite telecommunications companies where he has been an executive manager for the past 20+ years. He has proven experience in establishing and managing a product-based business from initial formation through revenues of >$50M. Randy and his team recently won the regional Ernst & Young Entrepreneur of the Year award.  Randy has a Bachelor of Science from Virginia Tech and a Masters in Electrical Engineering from Purdue University. 
Carol Frank of Boulder, CO, is the founder of four companies in the pet industry and a Managing Director with BirdsEye Advisory Group, where she advises pet companies in M&A transactions and Exit Planning.  She is a former CPA, has an MBA, is a Certified Mergers and Acquisitions Advisory (CM&AA) and holds Series 79 and 63 licenses.  She highly values and incentivizes referrals and can be reached at cfrank@birdseyeadvisory.com.